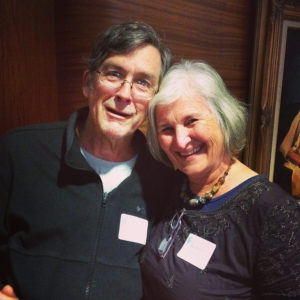 November 2013 Volunteers of the Month:
Kathryn and Carl Johnsen
Occupation: Both Kathryn and Carl are retired educators.
What are your hobbies?
Kathryn: "We both enjoy playing music on Celtic harp, hammered dulcimers, and Irish whistles. We also like riding bikes, vegetable gardening, geocaching, walking, and discovering new things about Fresno."
What are some of your favorite movies?
Kathryn: "We both like movies about people in different cultures, which gives us a glimpse into the lives of others. We have many favorites, but mine is Cave of the Yellow Dog."
Carl: "My favorite is Laagan: Once Upon a Time in India."
What types of movies would you like to see more of at Filmworks?
Kathryn: "We would love to see more foreign-language films with uplifting messages."
How did you get involved with Filmworks?
Kathryn: "[Advisory Board Member] Catherine Campbell invited us to volunteer. We had been attending Filmworks from the beginning, and once we retired we had more time to be helpful."
What has been one of your favorite Filmworks events?
Kathryn: "We love the Oscar Nominated Short Films each year. What a great opportunity to see them on the big screen!"
What are your usual volunteer jobs?
Kathryn: "At the concessions table. Carl is great at making popcorn."
Carl: "And Kathryn enjoys selling snacks and visiting with friends."
Filmworks thanks all of our November 2013 volunteers: Dominic Bedrosian, Antonio Garcia, Fae Giffen, Randa Jarrar (discussant), Carl Johnsen, Kathryn Johnsen, Julie Linxwiler, Monica Marks-Rea, Karen Mele, Huda Munjy (discussant), Shlomo Pleban, Sara Poss, Andre Provencio, Gene Richards, Susan Rogers, Bill Rovin, Zoe Smurr, Richard Stone, Sky Sweet, Colby Tibbet (intern), Lorraine Tomerlin, Jon Veinberg, Suzanne Watkins.
Past volunteers of the month:
• October 2013 – Linda Hernandez
• September 2013 – Susan Rogers
• August 2013 – Joan and Brijesh Sharma
• July 2013 – Jon Veinberg
• June 2013 – Richard Stone
• May 2013 – Sarah Nixon
• April 2013 – Alyssa Rendon
• March 2013 – Nené Casares
Contact our volunteer director, Gloria Burrola, to volunteer at a future screening.