JEFFERSON BEAVERS, PRESIDENT
1. "Stories We Tell" — Canadian filmmaker Sarah Polley makes a movie about memory that functions equally as family spectacle and self-aware docu-drama. A heartfelt meditation on the power of images and stories to color what we think we know about our parents.
2. "Blancanieves" — Technically released in 2012, this Spanish silent film stole my heart at the 2013 Fresno Film Festival. Stunning black-and-white cinematography and a super clever narrative take on a classic fairy tale.
3. "Before Midnight" — I love growing older, film after film, alongside director Richard Linklater's thinky-talky duo, Celine and Jesse. I hope Julie Delpy and Ethan Hawke return again to tell us even more.
4. "20 Feet from Stardom" — Hearing and acknowledging the real-life stories of these unheralded backup singers, and hearing and acknowledging their incredibly powerful voices, felt like a revelation.
5. "Fruitvale Station" — First-time director Ryan Coogler really gets it right with this fictional take on the life of Oakland shooting victim Oscar Grant. Straightforward, unsentimental, and urgent.
Note: I'm looking forward to seeing "The Great Beauty" this month, and I'm also excited to see both "Her" and "Inside Llewyn Davis" when they make it to Fresno.
JOHN MOSES, PROGRAM DIRECTOR
"12 Years a Slave" — However painful to watch, Steve McQueen's film should be on everyone's must-see list for 2013. Why did it take a Brit to make the ultimate film about American slavery?
"The Great Beauty" — Like "La Dolce Vita," this new masterpiece is brimming with eccentric and extravagant images, but Paolo Sorrentino's vision of "the sweet life" achieves an even finer balance of caustic satire and decaying beauty than did Federico Fellini's landmark film.
"Frances Ha" — The breezy French New Wave feel—with affectionate allusions to Francois Truffaut—keeps the film light and joyful, as Frances (played by co-writer Greta Gerwig) chases her dreams and the perfect living space in New York City. If you're Unitarian Universalist, you'll have a special reason to see the film: Frances' trip home to Sacramento at Christmas includes a scene with the UU congregation that Gerwig grew up in.
"Blue Jasmine" — Woody Allen is back on top with an inspired re-imagining of "A Streetcar Named Desire" and great performances from Cate Blanchett and Sally Hawkins. The final scene is devastating.
"Omar" — Hany Abu-Assad's tragic story of betrayal and revenge in the occupied Palestinian territories is riveting. The film, now on the short-list for an Academy Award nomination in the best foreign-language film category, will get its U.S. release in March.
Note: Other films vying for spots on the rest of my Top 10 list are "Before Midnight," "Stories We Tell," "Gravity," and "The Spectacular Now." But I first need to see "The Past," "Her," "Inside Llewyn Davis," and "Nebraska."
JIM PIPER
"Wadjda"
"Out of the Furnace"
"No"
"Museum Hours"
"Captain Phillips"
"Blue Jasmine"
"Before Midnight"
"A Late Quartet"
"20 Feet from Stardom"
"12 Years a Slave"
Note: These are unranked.
ARTHUR ROBINSON
"Upstream Color" — Everyone I know who talks about this movie mentions Terrence Malick in the same breath. (The director you should be thinking about is David Cronenberg.) It sounds weird when you say it out loud: "My favorite movie of the year is a brainwashing movie." But that's what I like: close-ups on hands, animals, realistic science fiction, long walks on the beach, and movies by Shane Carruth.
"Gravity" — Can I even call this a movie? It felt more like an experience. I was with Sandra Bullock flying around outer space for 90 minutes and I couldn't get out of my seat until the ride ended.
"Fruitvale Station" — If you know anything about how movies are made, you know how easy it would've been to put Oscar Grant on a pedestal or change the slant of the story to demoralize the man. The fact that the filmmakers didn't, and the fact that this film is merely a powerful picture of the 21st Century, makes it worth viewing.
"Pain & Gain" — I like to think Michael Bay made all those Transformers movies just to make this. A truth-is-stranger-than-fiction black comedy starring bodybuilding, delusion, and Mark Wahlberg.
"The World's End" — I'm Edgar Wright biased—I've been watching his stuff since 2004—but I thought this whole film was so giddy. I really liked the fights. They rival any action movie of the past five years. There were a lot of special effects. Maybe not the best of the year, though it's certainly the most likable.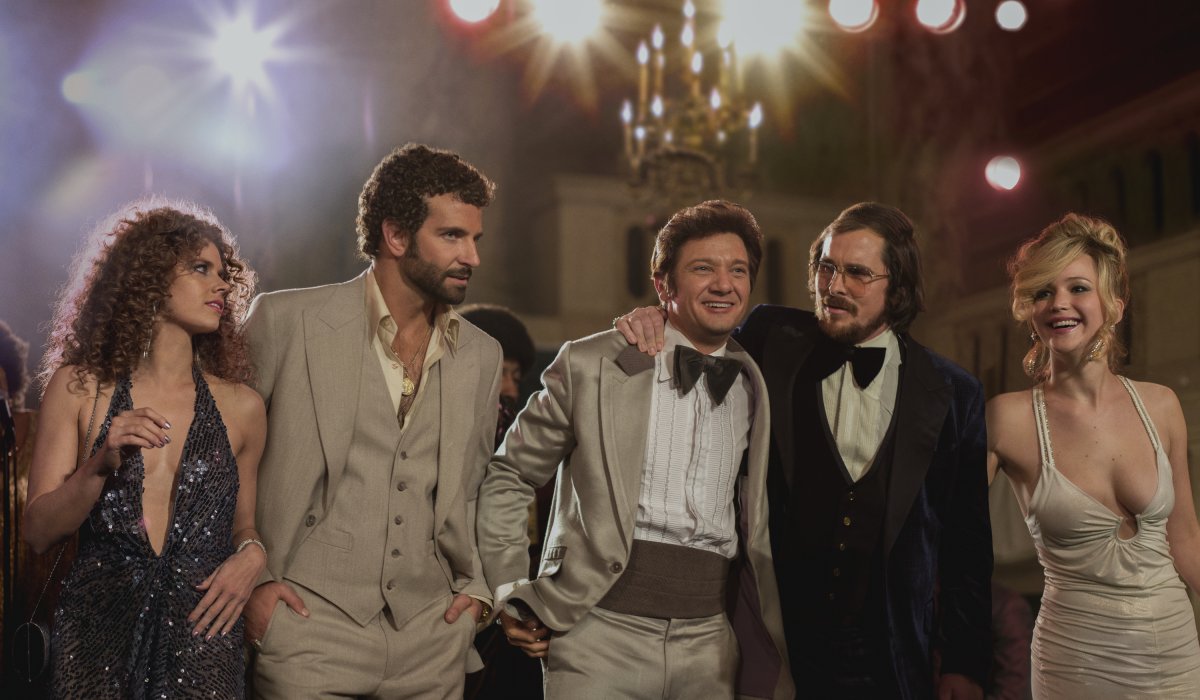 DIXIE SALAZAR
1. "American Hustle" — The acting is superb—all Oscar-worthy performances—but Jennifer Lawrence's housecleaning scene to "Live or Let Die" is priceless. Dialogue and editing are also fantastic. This is what moviemaking is about. My big beef with lots of films is the predictability factor, and nothing here is predictable. Yet, always true to character. In short, I loved this film!
2. "Blue Jasmine" — Not a perfect film, but Cate Blanchett is amazing as a Blanche DuBois character, and the supporting cast excellent as well. Also, great S.F. scenes.
3. "20 Feet from Stardom" — This documentary never drags. And I love films (or any art form) that brings true, lost artists out of the shadows. Editing also great, and good blending of documentary footage and current.
4. "Instructions Not Included" — The child who plays the little girl in this is adorable. All things considered, it was enjoyable, although only a little sappy in a few places. A terrific ending that I did not see coming. I loved that it was a mainstream Spanish-language film that was so well done.
5. "Fruitvale Station" — OK, I haven't seen it yet. But I'm going to, and I know I'll like it a lot! (I've read a lot of reviews, and doesn't that count for something?)
BETSY TEMPLE
"The Way Way Back"
"Wadjda"
"20 Feet from Stardom"
"Mud"
"Fruitvale Station"
"Captain Phillips"
Note: I'm not ranking these movies vis a vis each other. They're all so different that there's no way that I can compare one of them to the others, to say that one was "better" than the other!
What were YOUR favorite films of 2013? Please share your lists with us on Facebook.