May 2015 volunteer in the spotlight:
Stan Morita
Tell us a little about yourself:
My name is Stan Morita. I was born in Fresno and raised in the small town of Biola. I attended Central Union High School and UCLA, and I earned a degree in Mass Communications.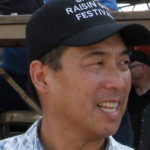 What is your occupation?
I am a third-generation
raisin farmer.
I manage my family's vineyard in Fresno County. I am a former news and public affairs producer from KNBC-TV in Los Angeles and KGPE-TV in Fresno.
What are some of your favorite hobbies and things to do outside of work?
I serve as an adviser and mentor for Fresno Boys and Men of Color, a leadership project that works with young men who are interested in improving their neighborhoods and using their voices to build a healthy community in Fresno.
When did you first hear about Fresno Filmworks?
I went to see "A Prairie Home Companion" in 2006. I love movies and Filmworks has introduced me to many independent and foreign films that were not being shown in the multiplexes.
What's your favorite film you've seen at Filmworks?
Among them, the documentary "20 Feet from Stardom," the Romanian drama "4 Months, 3 Weeks and 2 Days," and "Sweet Land" at the 2007 Fresno Film Festival.
What other types of films do you enjoy?
I enjoy films that surprise and move me and help me to see the world in a different way. Films such as "Crouching Tiger, Hidden Dragon," "Field of Dreams," "The Joy Luck Club," "Departures," "The Nightmare Before Christmas," and others.
Why did you start volunteering for Filmworks?
I wanted to thank the organization for providing complimentary tickets through their community giving efforts. They've hosted youth from Fresno Boys and Men of Color, Women Empowered, and other community organizations.
What's the best part of volunteering?
Seeing all the happy faces of people who come out for a night at the movies!
What would you say to others who may be interested in Filmworks? Why should they come out and get involved?
Come see an original film in the beautiful Tower Theatre. Support independent and international cinema in the Central Valley. Also, $5 will buy you popcorn and a drink. What a deal!
Filmworks thanks all of our April 2017 volunteers:
Hazel Antaramian Hofman, Cleo Bauer, Teule Bell, Gloria Burrola, John Dunning, Richard Flores, Fae Giffen, Neal Howard, Nuria Ibars, Parvin Malik, Richard Markley, Monica Marks, Stan Morita, Dominic Papagni, Manuel Rodriguez, Roque Rodriguez, Benjamin Woodcock
Filmworks thanks all of our May 2017 volunteers:
Daisy Cruz-Maya, Karen Hammer, Neal Howard, Richard Markley, Monica Marks, Vannessa Martinez, Ann McGowan, Conde McGowan, Gene Richards, Carlos Eduardo Rincón Marquez, Roque Rodriguez, Marissa Vang
To meet our past volunteers in the spotlight and to find out how you can volunteer with Filmworks, visit our volunteer page.