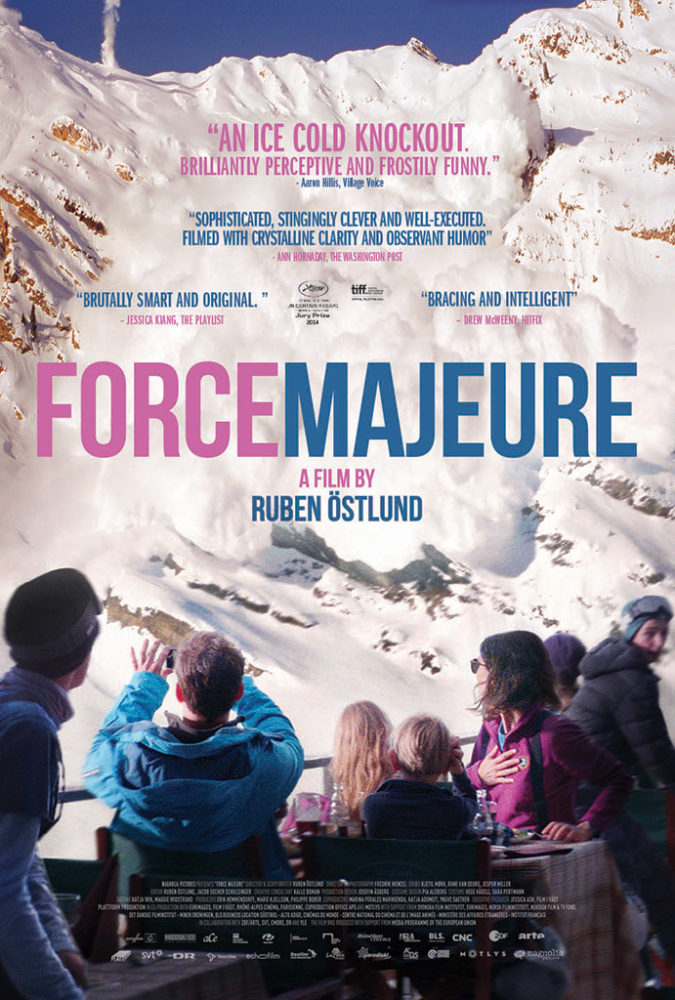 Synopsis & Film Details
To open its 2015 season, Filmworks presents the Swedish family drama "Force Majeure," a critical favorite that won the Jury Prize Un Certain Regard at the 2014 Cannes Film Festival. Wickedly funny and precisely observed, the movie tells the story of a model Swedish family — handsome businessman Tomas, his willowy wife Ebba, and their two children — on a skiing holiday in the French Alps. The sun is shining and the slopes are spectacular. But during lunchtime at a mountainside restaurant, an avalanche suddenly bears down on the happy diners. With people fleeing in all directions and his wife and children in a state of panic, Tomas makes a decision that will shake his marriage to its core and leave him struggling to reclaim his role as family patriarch. Written and directed by rising Swedish filmmaker Ruben Östlund, the film is Sweden's official Oscar entry for Best Foreign Language Film. In Swedish, English, and French, with English subtitles.
Director: Ruben Östlund
Sweden/France/Norway (2014) • 118 minutes • Rated R

SCREENING SPONSOR:
Fresno Philharmonic
The Fresno Philharmonic presents "Boléro," a concert of intoxicating rhythms from Spain and Latin America with music by Piazzolla, Rodrigo, Frank, and Ravel, on Jan. 25, 2015 in the William Saroyan Theatre. With special guests: guitarist Charles Ramirez and conductor José-Luis Novo. Visit Fresno Phil.org for tickets and details. As Fresno's professional symphony orchestra, now in its 61st season, the Philharmonic presents incomparable live musical experiences to thousands of people each season and provides high-quality music education programs to students throughout our region.

Filmworks thanks Jewel FM 99.3, The Fresno Bee, Granville Homes, Vida en el Valle, and Stella Artois for their ongoing support.