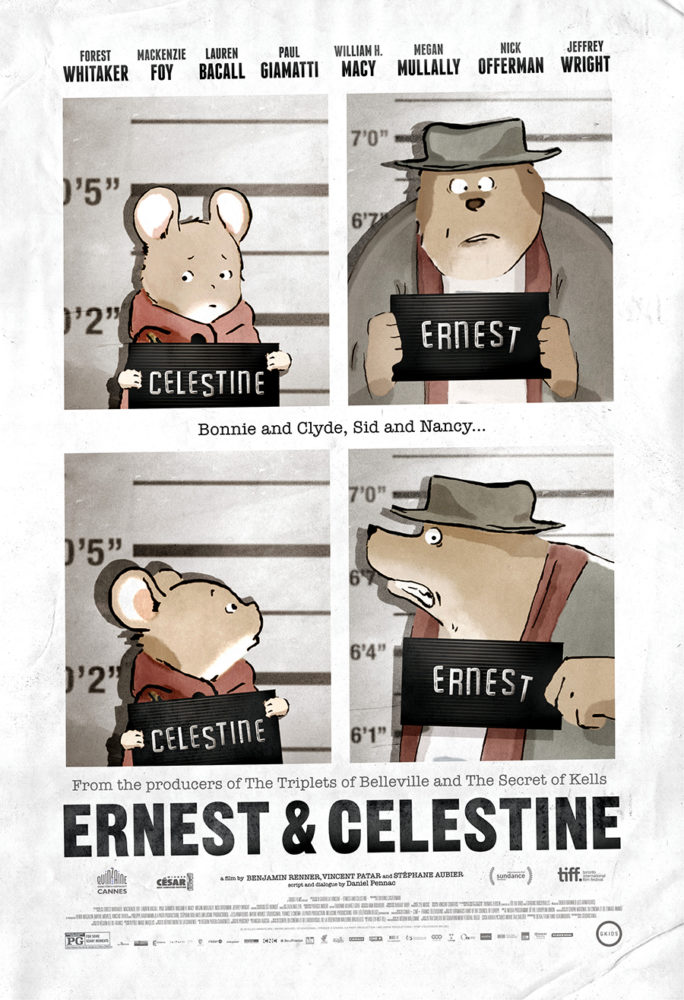 Synopsis & Film Details
Filmworks presents the Oscar-nominated animated film "Ernest & Celestine," the gentle and delightfully weird tale of an unlikely friendship between a bear named Ernest and a mouse named Celestine. Deep below snowy streets, tucked away in networks of winding subterranean tunnels, lives a civilization of hard-working mice who feel terrified of the bears who live above ground. Unlike her fellow mice, Celestine is an artist and a dreamer. When she nearly ends up as breakfast for the misunderstood troubadour Ernest, the two outcasts form an unlikely bond. As they rise above intolerance for the sake of their friendship, the duo's bond is put on trial by their respective bear-fearing and mice-eating communities. From the whimsical creators of "The Triplets of Belleville" and "A Town Called Panic," this French production is based on the Belgian children's book series by Gabrielle Vincent. The film mixes classic storybook imagery and minimalistic animation with the influences of watercolor painting, yielding a constantly shifting pastel color palette to illuminate a humorous slapstick comedy with surprising depth. Presented in English, with a voice cast that includes Forest Whitaker, Lauren Bacall, Paul Giamatti, William H. Macy, and more.
Directors: Benjamin Renner, Vincent Patar, and Stéphane Aubier
France/Belgium/Luxembourg (2012) • 80 minutes • Rated PG
Discussion Circle
Join librarian Jennifer Crow to talk about the film. Crow serves as curator of the Arne Nixon Center for the Study of Children's Literature, inside the Madden Library at Fresno State. The Center sponsors author visits, conferences, and exhibitions year-round. Crow has worked at the Center for more than 13 years, and she previously worked in the Doris Gates Children's Room and the Cedar-Clinton branch library for the Fresno County Public Library. She holds a Master of Library and Information Science degree from San Jose State, and her favorite children's books include "Where the Wild Things Are," "Charlotte's Web," and "A Wrinkle in Time." Moderated by Filmworks board member Mary Husain.
SCREENING SPONSORS:

Arne Nixon Center
for the Study of Children's Literature
Located inside the Henry Madden Library at Fresno State, the Arne Nixon Center is one of North America's leading resources for exploring children's and young-adult literature. The special collection consists of more than 60,000 books, as well as numerous periodicals, manuscripts, original art, and papers of authors and illustrators with a specific emphasis on multicultural materials. The Center seeks to serve children through its wider assistance to the adults who work with them including teachers, librarians, authors, illustrators, researchers, scholars, collectors, and fans of children's literature.
Fresno Chaffee Zoo
Located in the heart of Roeding Park, come discover the Fresno Chaffee Zoo — your destination for an incredible adventure! First, visit Sea Lion Cove and the breathtaking 200,000-gallon exhibit, then journey to the Sunda Forest territory to our tigers, orangutans, and siamangs. Explore the wet wonders of our tropical Rain Forest. Feed a giraffe, howl with our red wolves, and be amazed by our Asian elephants. It's an experience of a lifetime every day at Fresno Chaffee Zoo! The zoo's mission is to inspire wonder of our natural world, provide an engaging learning environment, and create a passion for conservation.
Filmworks thanks Jewel FM 99.3, The Fresno Bee, Granville Homes, Vida en el Valle, and Stella Artois for their ongoing support.