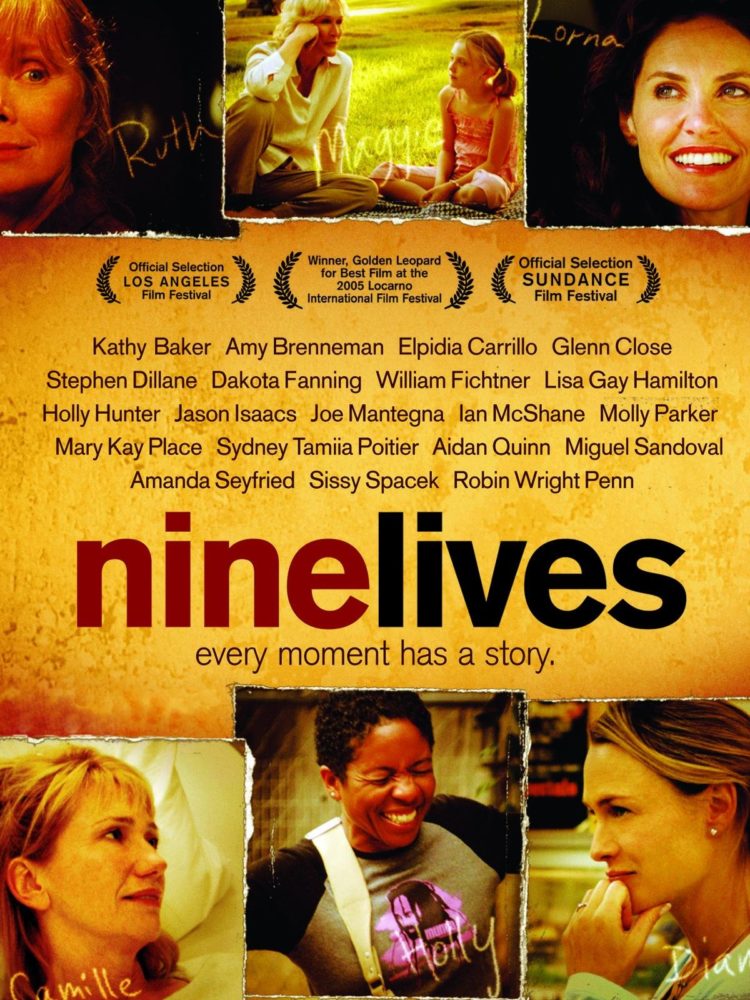 Screening Times
November 11th, 2005
5pm and 8pm
Screening Locations
The Tower Theatre
815 E. Olive Avenue, Fresno
Synopsis & Film Details
Nine Lives is a moving exploration of the individual experiences of nine women as told through nine single unbroken takes. As characters from one story reappear in supporting roles in others, Rodrigo Garcia interweaves a grand tapestry of universal resonance that hinges on performances from an incredible ensemble. By depicting nine different characters at emotional crossroads, Nine Lives examines how we so often find ourselves captive in relationships, both past and present.
Sandra (Elpida Carrillo) is literally in prison and wants desperately to connect with her visiting child. Diana (Robin Wright Penn) confronts the sudden flash of a past relationship long after she has moved on to a new life. Holly (Lisa Gay Hamilton) can't seem to move forward until her stepfather acknowledges the pain he has caused her. Sonia (Holly Hunter) reels from her boyfriend's disclosure of an intimate secret to their closest friends. Teenager Samantha (Amanda Seyfreid) is caught in a static loop as the peacemaker between her parents. Lorna (Amy Brenneman) attempts to comfort her ex-husband after his wife's suicide and finds herself implicated in the tragic death. Ruth (Sissy Spacek) considers straying from married life during a motel rendezvous. Camille (Kathy Baker) faces the limitations of her previously dependable body. Maggie (Glenn Close) allows her own life to be eclipsed by that of her young daughter, Maria (Dakota Fanning).
Filmmaker Rodrigo Garcia (Things You Can Tell Just By Looking at Her) plumbs the depths with these nine everyday women who meet the travails and disappointments of life with a resilience that is at once heartening and heartbreaking.
Director's Statement
"I don't think of the movie as a movie about women. I think the movie is about the subject matter that interests me; the claustrophobia of being in a relationship that you can't live with and you can't live without, the ties that bind you to people in conflicting ways, the inability to move away from things or to move on and grow. I'm fascinated by characters that cannot grow. Why do I end up making them women? I think there are a couple of reasons. First, I write them better than the men; that's just the way it happens to be so you want to use the tools that you use best. Also, it's more fun to be in "the other" rather than to be in front of the mirror. All of these women have aspects of myself and it's just more fun to see it in the other way rather than to just with my own face with having an actor who resembles me. Also, Jason Isaacs, who plays in this piece, said to me, 'Well, it's a good excuse for you to treat all of this material emotionally, and that's harder to do with men.' And I think he's right. I haven't thought of it that way, but it's true. I'm always looking for the pieces to have emotional outcomes and that's harder to do with men."
Directed by Rodrigo Garcia
2005, USA, 115 min., rated R
Starring: Kathy Baker, Amy Brenneman, Elpidia Carrillo, Glenn Close, Stephen Dillane, Dakota Fanning, William Fichtner, Lisa Gay Hamilton, Holly Hunter, Jason Isaacs, Joe Mantegna, Ian McShane, Molly Parker, Mary Kay Place, Sydney Tamiia Poitier, Aidan Quinn, Miguel Sandoval, Amanda Seyfried, Sissy Spacek, Robin Wright Penn
Advance tickets may be purchased at the following locations: Fig Garden Books in Fig Garden Village Shopping Center, The Movies located at 1435 N. Van Ness and the Tower Theatre Box Office
---
Critic Reviews
An extraordinarily rich and satisfying suite of fleeting but intense moments in the lives of nine women.
,
I'm not sure how director Garcia makes his vignettes so urgent, so satisfying, in such little time. He seems to have an almost clairvoyant grasp of character and has at his command some of the best actresses working. It's a master class in acting and screenwriting.
,